filled oil pressure gauges
Share
Issue Time

Aug 11,2017
What is the pressure gauges ? There are manyPressure gauges, for example ,according to Installation structure and mode , itcan be divided into two kinds, it is bottom connection and backconnection, if according to oil filledor not filled, it can be divided into two kinds. It is most basic! Next, I would like introduce two kinds ofpressure gauges, As follow:
Pressure gauges are instruments that measure the difference inpressure within a system and atmospheric pressure. They are used widely inindustrial processes to monitor the pressures of gases and liquids withincompressors, process lines, vacuum equipment and storage tanks. Domesticapplications include monitoring water pressure in mains supply, water tanks andswimming pool filters. Such domestic pressure gauges mostly use an analog andpointer display and can be easily rebuilt when damaged or rusty.
Follow the manufacturer's instructions for the dead weightcalibrator to recalibrate the rebuilt pressure gauge. If this is impractical,enlist the help of a specialist or take the gauge to a garage or local hardwaresupplier for calibration.
Reconnect the gauge to the water system and use the wrench totighten the brass fitting at its base. Turn on the faucet to refill the watersystem. Turn on the power for the water pumping system to resume.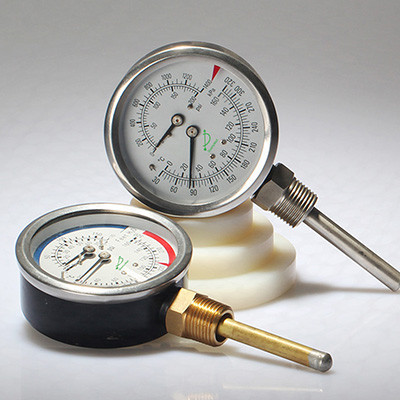 Bottom Temperature-pressure gauge
Technique Specification:
1. Dial Size: 3" (80mm)
2. Pressure Range: 0~100PSI
Temperature Range: 20~160C F(customer-made pressureand temperature range is available)
3. Connection: Bottom Conn. (Vertical)
4. Connection Size: 1/2"NPT, Customer-made is available.
5. Bezel: Pressed
6. Stem Length: 75mm* Φ9mm
Material Details:

1. Case Material: Black Steel
2. Dial Material: Aluminum
3. Window/Lens: PC
4. Inner Material:
Pressure: Brass BourdonTube
Temperature: Bimetal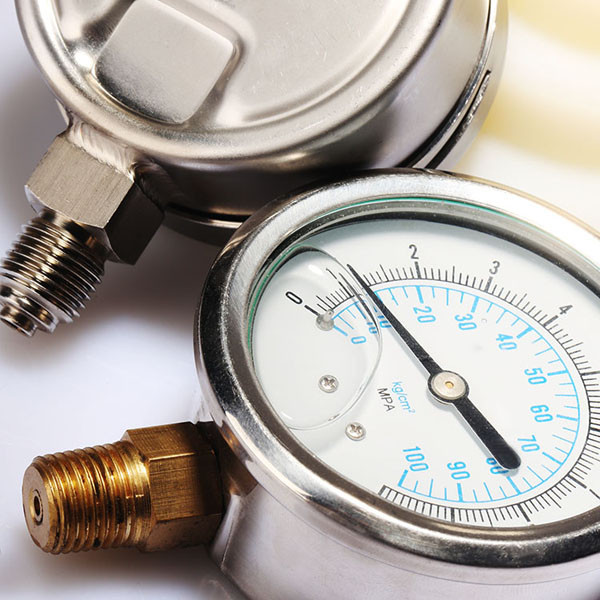 4"(100mm) oil filled Pressure gauge
1,4"(100mm)Dial ,oil filled (Glyceride)
2,EN837-1 Standard
3,Half SS304 Material
SS304 Case and flange,BrassInternal and Connection
4,Back Flange
5,Alumium Dial
6,Black Pointer
7,Safty Glass
8,Test Range:0-1600 Kpa(Customized)
9,Bottom Connection

10,Thread :3/8"BSPT or NPT (customized)
11,Accuracy: CL 1
12,Brand :QualityWell
Mention above is bottomconnection and oil pressure gauge ,if you would like use it ,you can referenceto it .